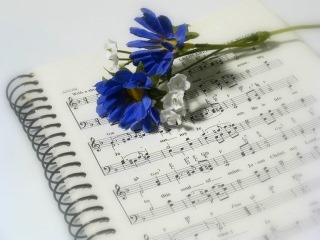 As I was writing today's entry for "Favorite Quotes/Verses" in

My Day Book

, I wrote the lyrics to an old hymn that I use to sing in the choir as a young girl.
I can make it, through the valley, over mountains, through the storm. Jesus keeps me so completely I can make it all the way home.
~ I Can Make It
- an old church hymn
Oh, how sweet the sound! I can still hear this beautiful melody and the great alto singers coming in during the harmony.
I am so blessed to have been raised in church! These old songs come up out of nowhere! Well, not really "nowhere". I am so amazed that these songs live inside my heart, and sometimes they must feel like being sung again. If I tried to remember them all, I could not. I guess this song "came out" because of a post I read over at Homespun Devotions, and because a mild storm just came through.
Scripture does this also. When I need it, it comes flooding back to my mind. Verse after verse, God has comforted me with His word several times.
Blessed is the people that know the joyful sound: they shall walk, O Lord, in the light of thy countenance.
In thy name shall they rejoice all the day: and in thy righteousness shall they be exalted. For thou art the glory of their strength Psalm 89: 15-17
This is why it is important to instill God's word and hymns of worship into our children. In their joy and trials, what will they hear? Will it be songs of praise and adoration? Will it be scriptures of deliverance, strength, praise, and comfort? I surly hope so!
Let the word of Christ dwell in you richly in all wisdom; teaching and admonishing one another in psalms and hymns and spiritual songs, singing with grace in your hearts to the Lord.
Colossians 3:16